ITLS eTrauma
Taking trauma training online
Note: The 9th edition eTrauma course is under revision and expected to be released early 2022. 8th Edition ITLS eTrauma may continue to be used until further notice.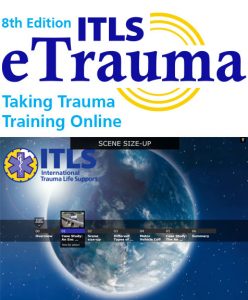 The 8th Edition ITLS eTrauma: Taking Trauma Training Online course reinterprets the ITLS Provider classroom instruction in a self-paced, online format that focuses on the essential knowledge to take better care of trauma patients. ITLS stresses rapid assessment, appropriate intervention and identification of immediate life threats. The ITLS framework for rapid, appropriate and effective trauma care is a global standard that works in any situation. The ITLS eTrauma course can be used for continuing education or as the first step in achieving your ITLS Basic or Advanced Provider certification.
Product Options
8th Edition ITLS eTrauma Course Access with eTextbook
8th Edition ITLS eTrauma Course Access Code only
What's included with the online course:
13 interactive lessons that correspond to textbook chapters
3 different options for course and textbook: with hard copy textbook, with etextbook, or access code only if you already own the 8th edition Provider manual
8 hours of CAPCE continuing education credit upon successful completion
Option to take ITLS eTrauma for Advanced Providers or ITLS eTrauma for Basic Providers – different quiz questions depending on your skill level
You can use ITLS eTrauma for continuing education or as the first step in achieving your ITLS Basic or Advanced Provider certification. Either way, you will maximize your learning and retention with online education that's innovative, flexible, and affordable.
Looking to earn ITLS Provider certification with eTrauma? Find out about ITLS Completer
---
How to Buy
U.S. Customers
8th Edition ITLS eTrauma is sold to U.S. customers by Pearson Education. The two digital options (that do not include a hard-copy textbook) include the access code for the course immediately after purchase, so you may start the course right away.
Sorry, the package that includes the hard-copy 8th edition textbook is no longer available.
Buy from Pearson – U.S. customers:
Course access code with eTextbook
Access code only (if you have access to an 8th ed. book from another source)
View Visual Guide to Purchasing & Accessing
Includes step-by-step screenshots of purchasing from Pearson, obtaining your access code, and redeeming it to start the course. A great place to start!
---
How to Buy
International Customers
International customers must order directly from the ITLS International Bookstore. Orders for international customers are fulfilled by ITLS staff and access is NOT instantaneous. Access code and instructions for access will be sent by email within 3 business days.
Buy from ITLS Bookstore – non-U.S. customers:
Course access code with eTextbook
Access code only (if you have access to an 8th ed. book from another source)
---
More ITLS eTrauma Resources