Publications
The ITLS Bulletin is the quarterly newsletter of International Trauma Life Support, distributed electronically to more than 5,000 contacts looking for clinical resources, educational updates, and upcoming events for ITLS International.
The ITLS Bulletin Newsletter is Back!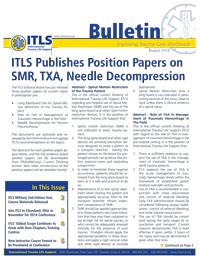 The August 2014 issue of the Bulletin newsletter is here:
Flipbook Edition       PDF Edition
What's inside the issue: All the latest from ITLS, including clinical position papers, 2014 conference, future publications, and more — plus fun photos from our Chapters and Training Centres around the globe!
Make sure you receive all the latest news and information from ITLS – join ITLS's email lists. Most communications are sent by email.
ITLS on Social Media
ITLS is on Facebook! Like ITLS for photos, updates, links and more:
ITLS just expanded to Twitter, LinkedIn, and Google Plus! Follow ITLS on all your favorite social media platforms for updates, promotions, video content, and more. Get involved by commenting, retweeting, and sharing relevant content.
ITLS Global News for Chapters & Training Centres
Chapter and Training Centre Administrators have access to ITLS Global News for Chapters & Training Centres. This newsletter contains important information from ITLS International about administering the ITLS program at the Chapter/Training Centre level.