Instructor Update Online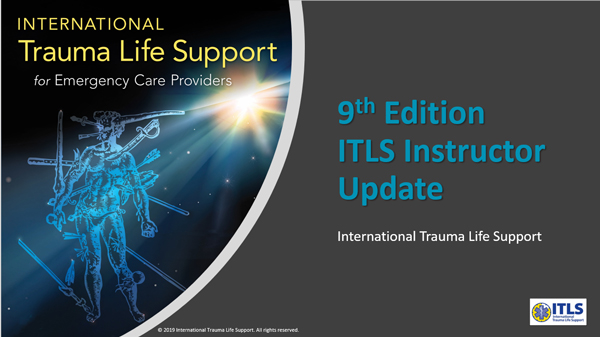 ITLS is proud to present the 9th Edition Instructor Update, a tool for ITLS instructors to update to the 9th Edition ITLS provider manual published in November 2019.
The 9th Edition Instructor Update is comprehensive and authored by the ITLS Editorial Board to ensure all pertinent materials are covered. A 15-question quiz at the completion of the program ensures a minimum standard of learning has been met. A passing grade of 80% or higher is required; the quiz may be repeated until the passing score is achieved.
The cost is $35.00 US. Payment can be made with a credit card or with your bank account via PayPal. Access to the online program is instantaneous and can be completed in about 1 hour.
Program Requirements
The ITLS 9th Edition Instructor Update is intended for current ITLS instructors ONLY. It is not for initial instructor certification.
All current instructors are required to complete the 9th Edition Instructor Update before they are allowed to teach from the 9th edition textbook.
In order for your instructor recertification card to be issued upon successful completion of this program, you must have also met your ITLS Chapter or Training Centre's teaching requirements. If these requirements have not been met, a new card will not be issued.
If you have questions about whether you are eligible to renew your ITLS Instructor status by completing the 9th Edition Instructor Update, please contact your local Chapter or Training Centre for assistance before purchasing the program. Find contact information
The ITLS Board of Directors and Editorial Board have set a policy that all Chapters and Training Centres are required to use the 9th Edition Instructor Update in addition to Chapter/Training Centre-specific teaching requirements as the criteria for instructor recertification eligibility.  Chapters or Training Centres may not require any additional educational requirements for 9e instructor updates.
Here's how the ITLS 9th Edition Instructor Update process works:
Purchase and complete the 9th Edition ITLS Instructor Update online program, including achieving a score of 80% or higher on the 9th Edition Instructor Update Quiz.
All successful completions of the program will be forwarded to the appropriate Chapter/Training Centre Coordinator on an incremental basis. During the first year of the program, completions from the prior month will be sent at the beginning of the following month. After the first year, completions will be sent on a quarterly basis at the beginning of the quarter.
The Chapter/Training Centre Coordinator will verify that each instructor has met the Chapter/Training Centre-specific teaching requirements.
If teaching requirements have been met, a 9th Edition Instructor Update instructor recertification card will be issued to the instructor by the Chapter/Training Centre. New cards may be sent by email or hard copy at the discretion of the Chapter/Training Centre.
You will also be awarded 1 hour of CAPCE continuing education credit. The credit statement appears at the bottom of the ITLS certificate you receive with your card.
To inquire about the status of your 9th Edition Instructor Update instructor recertification card, please contact your local Chapter/Training Centre Coordinator directly. Find contact information
Acknowledgements
Narrated by Maia Dorsett, MD, PhD, FAEMS
Program developed by the ITLS Editorial Board 9th Edition Instructor Update Workgroup:
Maia Dorsett, MD, PhD, FAEMS
Sabina Braithwaite, MD, MPH, NRP, FACEP, FAEMS
Simon-Luc Lavoie, QL6A Med Tech, FAECM, AECP
Amy Boise, EMT-P, FP-C
Dean Buch, EMT-P
Nerina Stepanovsky, PhD, MSN, CTRN, Paramedic