International Trauma Conference

Announcing CONNECT:
The Virtual Experience!
November 12-13, 2020  |  Live Virtual
On Demand coming later in 2020!


The International Trauma Conference is more accessible than ever!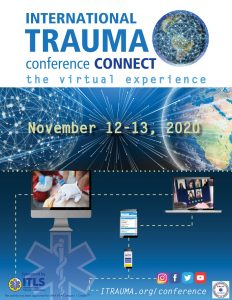 ITLS brings you two half-days of cutting-edge educational content from speakers around the globe … and you don't have to leave your house to tune in!
Live and recorded sessions
Virtual exhibit hall — chat with vendors and compete for prizes!
Dedicated conference platform to make networking with attendees, vendors, and speakers easy
Continuing education hours for EMS personnel, nurses and physicians
Featuring speakers:
David Nelson, MD, FAAP  |  Howie K. Mell, MD, MPH, CPE, FACEP  |  Matthew D. Sztajnkrycer, MD, PhD, FACEP  |  Valerie J. Phillips, MD, FACEP   |  Phil Godfrey, MD  |  Eva Molter, MD  |  Klaus Meyer, BA, EMT-P  |  Hezedean Smith, CFO, EFP, CEMSO, CPM, FACPE (invited)  |  Tony Connelly, BHSc, EMT-P, QAM, PGCEi   |  Roy Alson, MD, PhD, FACEP, FAEMS
Interested in sponsorship of the virtual event? View Vendor Options
---

2020 International Trauma Conference
in Tampa, Florida, Postponed to 2021
The Covid-19 pandemic is unprecedented in the scale and challenges it presents. The ITLS family must play its part in keeping our communities safe. For that reason, we have had some difficult decisions to make. These decisions were necessary to ensure the safety of the instructor and student network as well as allowing the continuity of ITLS operations.
After in-depth discussion, the ITLS Board of Directors have voted that it is in the best interest of ITLS and the instructor network to postpone the 2020 International Trauma Conference and business session planned for Tampa, Florida. This was a difficult decision as we know how important it is for the ITLS family to meet to discuss business and stay connected. In making this decision, we considered the effect that the current pandemic would have on budgets and travel restrictions. The decision was made early on so that we all can plan accordingly.
This will mean that the International Trauma Conference and business session will be rescheduled for Tampa in 2021. The conference planned for Niagara, Ontario, Canada will take place in 2022.
Read full letter from ITLS Board Chair Tony Connelly
2021 Conference Date To Be Announced!
International Trauma Conference
Tampa, Florida, USA
The International Trauma Conference is the premier trauma conference attracting trauma and EMS professionals from around the globe.
---
Looking for 2019 Conference Resources?
Overall Evaluation & CE Attestation
Conference App – includes presentation handouts, faculty contacts, and more!