ITLS Duty to Respond
ITLS DUTY TO RESPOND is a 1-day hands-on practical trauma management course designed for first responders who have a duty to respond to emergencies.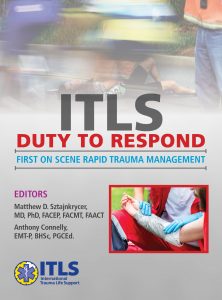 Focus on: Initial patient evaluation and critical interventions required to manage patient until the next level of care arrives
Course Content
The course manual is the ITLS Duty to Respond: First On Scene Rapid Trauma Management pocket guide.  Buy online now
Published August 2019
ISBN 978-0-9647418-6-7
Spiral-bound field guide measuring 4.5″ x 6.5″ for easy access and reference on scene
Course length: 8 hours
Didactic and Skills:
Course modules highlight: Scene considerations • Rapid trauma patient assessment • Shock and bleeding • Airway breathing interventions • Delayed transport care and reassessment • Hypothermia • Triage and communications
First aid certification required as prerequisite
DTR Instructor Process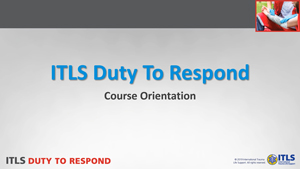 There are three paths to become a DTR instructor with different requirements for: current ITLS instructors; current PHTLS/TNCC instructors; and new DTR instructors. The minimum qualification is certification as an Instructor in First Aid.
The Course Orientation Module is required for all pathways and is available as a FREE online course. Enroll now
Instructor material access will be granted by the ITLS Chapter or Training Centre after the completion of the Course Orientation and fulfillment of any other requirements.