ITLS 2022 Newly Elected Board Members, Award Winners, and more!
The International Trauma Conference 2022 in Tampa, FL was a huge success. We want to thank everyone who came out and was involved in making it such a memorable time.
We want to congratulate our newly elected board member: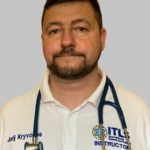 Jurij Kryvonos, MD, PhD
And our re-elected board members:
| | |
| --- | --- |
| Liz Cloughessy, AM, RN, Mast Health Mgt, FAEN (USA), MRCNA (AUS) | Richard N. Bradley, MD, FACEP, EMT-P |
As well as our newly elected Speaker and Vice Speaker:
| | |
| --- | --- |
| Amy Boise, NRP, FP-C (Speaker) | Ron Kowalik, ACP, BPHE (Vice Speaker) |
Awards were handed out during the 2022 conference to:
ITLS Coordinator of the Year
Billy Eldridge, NRP

ITLS Instructor of the Year
Zlatko Kvrzic, MSN

ITLS Ambassador of the Year
Genaro (Gary) Eudela, BSN, RN

ITLS Medical Director of the Year
Russ Bieniek, MD, FACEP

Donna Hastings Leadership Award
Ginny Kennedy Palys, JD
We'd also like to remember those we have lost this year:
| | |
| --- | --- |
| Peter Macintyre | JT Stevens |
Photos from the conference can be viewed on our Facebook page by clicking here. If you have any photos you'd like to share please send them to Brittney Tambeau at brittneyt@itrauma.org. Thank you all for joining us this year and see you in Houston, TX in 2023!