Highlights of the 2011 ITLS International Trauma Conference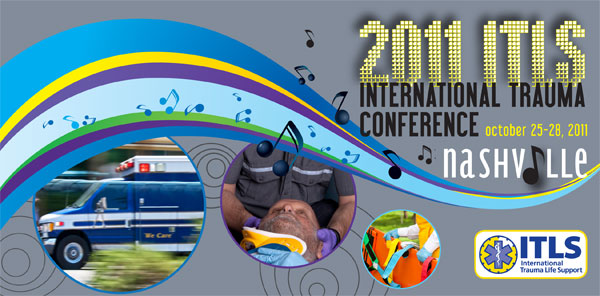 The 2011 International Trauma Conference on October 25-28 in Nashville, Tennessee, was a success, attracting 245 physicians, nurses, physician assistants, and EMS personnel from 18 countries and territories worldwide.
Representatives from Australia, Brazil, Canada, China, Hong Kong, Ireland, Italy, Japan, Nigeria, Oman, Palestine, Puerto Rico, Slovenia, South Africa, Spain, Switzerland, United States, and U.S. Virgin Islands were in attendance.
Board of Directors Members Elected at Business Session
ITLS chapter delegates elected three members to the Board of Directors at the 2011 Business Sessions in Nashville. Elected to 3-year terms were:
• Sabina Braithwaite, MD, MPH, FACEP, NREMT-P (Kansas)
• Youta Kanesaki, EMT-P (Japan)
• Peter Macintyre, ACP (Ontario, Canada
The Board of Directors officers were also selected for 2011-2012. Serving as officers are:
• Dr. Braithwaite – Chair
• Neil Christen, MD, FACEP (Alabama) – Vice Chair
• Pete Gianas, MD (Florida) – Past Chair
• Jonathan Epstein, MEMS, NREMT-P (Massachusetts) – Secretary Treasurer
• Amy K. Boise, NREMT-P, FP-C (Arizona) – Member-at-Large
Continuing to serve as President is:
• John Campbell, MD, FACEP (Alabama) – President
Dr. Braithwaite is EMS System Medical Director for Wichita-Sedgwick County EMS System in Wichita, Kansas.
Mr. Kanesaki is a firefighter, paramedic, and EMS commander for KHF Osaka Fire Department in Osaka, Japan.
Mr. Macintyre has just retired as EMS Program Manager for Toronto EMS in Toronto, Ontario, Canada.
John Mohler, RN completed his term on the Board. Dr. Braithwaite thanked Mr. Mohler for his service to the Board and the organization. Mr. Mohler continues to serve ITLS as the Chapter Coordinator of ITLS Nevada and is active on several committees, including co-chair of the Chapter Support Committee.
Toronto Team Takes First Place in 2011 ITLS Competition
The Toronto team was selected as the winners of the 2011 ITLS Competition during the International Trauma Conference in Nashville, Tennessee. Toronto has competed yearly since the competition began nearly 10 years ago.
Representing Toronto were Shamez Kassam, Lorne Burns, and Martin Johnston. Congratulations to the team!
The Toronto team competed against six other teams, from Niagara, Ontario; North Carolina; Japan; Slovenia; Tennessee; and Alabama.
The Niagara team placed second. It was the first time they competed at ITLS. Team members were: Brock Browett, Tracey Groszeibl, Shane Eickman, and alternate Hal Klassen.
The North Carolina team, defending champions for two years in a row, placed third. Team members were: Roger Horton, Barry McMillian, and Robert Coleson.
For photos from the Competition, check out the ITLS Facebook page: www.facebook.com/ITLStrauma
Annual ITLS Awards Recognize Commitment, Leadership
ITLS presented its annual awards at the 2011 International Trauma Conference to honor three individuals for their ongoing commitment to ITLS.
James Creel, MD, ITLS Tennessee Medical Director, was honored for his outstanding medical direction of courses and ITLS leadership with the John Campbell Medical Director of the Year Award. Dr. Creel is one of the earliest found­ers of the ITLS/BTLS program and was one of the original authors of the BTLS textbook with Dr. Campbell. Dr. Creel is a longtime medical director for ITLS, now in Tennes­see and previously in Georgia. He served as the Course Medi­cal Director for the first BTLS course at Erlanger Hospital in 1986 and remains actively involved with ITLS Tennessee today.
Glenn MacDonald, ITLS New Jersey Chapter Coordinator, was presented with the Pat Gandy Coordinator of the Year Award. As a coordinator and educator at Hackensack University Medical Center, Mr. MacDonald has worked diligently over the past year to reorganize the New Jersey chapter and continue its training mission. His hard work and perseverance have resulted in a busy, cohesive chapter training nearly 1,300 students in the past 2 years.
The Ray Fowler Instructor of the Year Award was awarded to Florian Kuehl, EMT-P of Germany, for his excellence in teaching and innovation in ITLS programs. Mr. Kuehl has traveled to bring training to developing ITLS chapters including Denmark, and served as the Chapter Coordinator for ITLS Germany from its inception in 2006 through 2010. The Germany chapter recently felt the loss of one of its most dedicated and energetic instructors, as Mr. Kuehl is relocating to Australia.
Unfortunately, neither Mr. MacDonald nor Mr. Kuehl could be present at the 2011 conference to accept their awards in person.
As another well-received conference concludes, ITLS is already looking forward to next year. The 2012 International Trauma Conference will be held at the WALT DISNEY WORLD Resort Florida on November 8-11. We hope to see representatives from all of our chapters in 2012!
See more photos online at: www.facebook.com/ITLStrauma